FIVE YEAR ANNIVERSARY
by Tina Hutchence

Thank you Rickyrocks, for a wonderful, adventure; our Five Year Anniversary.

Congratulations, and thank you, thank you, Rickyrocks for putting your heart and talent into this site.
This is such a gift for Michael and our family and the fans. I can never repay you for the hours
you have put into these pages over the years. We all thank you.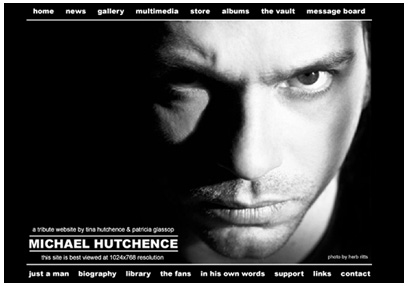 The original homepage when the site was re-launched 5 years ago
This past weekend I was watching a football game on television when a commercial came on for an upcoming series. The music that accompanied the spot featured Michael's voice singing 'Mystify'.
I was immediately immersed in images (in my own head) of Michael. I grabbed a jacket and walked outside where it was dark and cold. I live in the desert where there are few lights and the stars shimmer brilliantly.
I like to think of Michael, as one of those stars. I took my 'quiet time' to think about Michael.
The following day I was scheduled to talk at a meeting with some young people at a substance abuse centre and I knew that I would tell them a cautionary tale of a young man whose short life was an extraordinary mix of music and love and accomplishment and fear and pain. A talented man who left us all too soon – leaving us to grieve and wonder, why? I don't mention my full name when I speak at these meetings and I never reveal Michael's identity. I don't sugarcoat – I tell them that his latter years were privately lived in a bubble of paranoia and doubt and fear and discontent –and anger. If I touch only one person at a time, I am still winning a battle in Michael's memory, but I know by the reaction that I hit a cord in many hearts at that meeting on Monday.
To look on the bright side, is to look at hope; that is where I choose to be. With hope and the future in mind, I focus on Michael's legacy – his talent. He left dozens of songs, beautiful lyrics and images of some of the most exciting performances ever given. I am very proud of that. I am proud and filled with joy when I stop to remember that he led a full, extraordinary life experiencing adventures that most of us will never be exposed to.
In Michael's memory and in honor of his Birthday, I will go out today and give a little extra of myself to help someone else enjoy their life.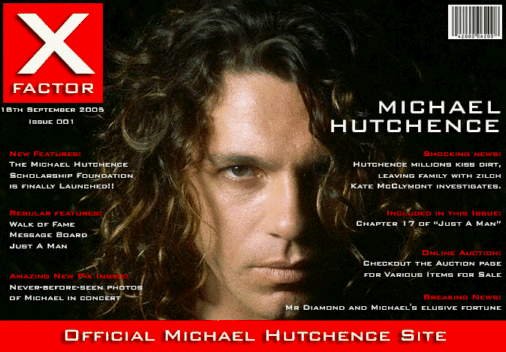 Some images from different homepages used on this site
And thanks to the fans who give us encouragement every day. Thank you all for loving and honoring Michael.
Tina Hutchence
U.S.A.
January 22, 2009