Happy Birthday Michael
(22nd January 2007)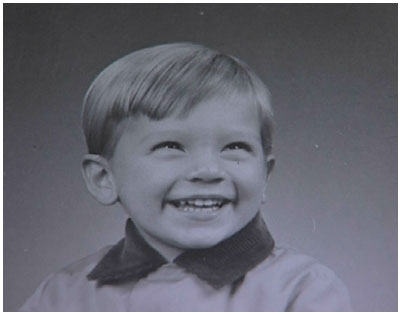 The year was 1962. This picture of Michael, an innocent little toddler, was taken just before Rhett came along. Who would ever expect that this little child would take the music world by storm and live out his dreams.

It seems that I have written all I can about Michael.
And it is very strange because before he died it never occurred to me to 'write' about him.
I never thought there would come a day when I could not see him, touch him, embrace him or converse with him. It continues to feel strange to have people ask me to share my feelings
about Michael.
Apart from being surrounded by his voice on radio, television, movies; in stores, hotel lobbies, restaurants and bars…………he is always in my heart. And he frequently puts me into really interesting situations that bring me comfort.
***************
Recently, while I was visiting family in Australia, We by chance met a really nice man who as it turned out is of Chinese nationality and born in Hong Kong. After attending university in London and living in various parts of Europe – Berlin, Paris, Amsterdam, Milan – he now resides in Australia.
As we sat there in one of those Sydney sports bars; television monitors screening horse racing, golf, tennis, Aussie rules, you name it; Michael's voice came blasting through the speakers "………don't change for you, don't change a thing for me…" Our new friends' face lit up and he began to sing along. He told us the name of the band and asked us if we had heard of them. Of course I said I was familiar with their music. He told us the name of the lead singer and said that he had attended KGV(King George V School) in Hong Kong. He said that he had also been educated at the prestigious school and the feeling in Hong Kong was that although Michael was Australian by birth; Hong Kong proudly claimed him as their own. He said he was a great fan, had followed Michael's career and felt that it was so tragic that he was no longer with us, but had collected all of his music and always enjoyed listening to it.
I could hardly contain myself, I thought I would burst with pride and my grin must have looked odd to this man. He had no idea that Michael was my brother and he had gone on for so long it was difficult to interrupt him.
I finally could not hold out any longer and I told him that I had also resided in Hong Kong in the late sixties and handed him my passport. It was great to watch his face as he read my name and put it together.
We talked about HK and its' various changes over the years and of course he asked me questions about Michael. We all went out for dinner – Cantonese of course, and exchanged email addresses.
One incident that demonstrated to me how special Michael's memory is to his fans, was something that happened one morning also in Sydney on the same trip.
Actually it was November 21st while I was visiting the Sydney Opera House. We had signed up for a backstage tour (recommended). I stepped out of my taxi at 6:15 in the morning and as my eyes took in the beautiful structure, I noticed a crowd gathering in front of a portable stage.
As I walked toward them it dawned on me that the two huge banners on either side were larger than life pictures of Michael. There were no other photographs or banners of other music icons, just Michael. I was so touched and overwhelmed to think that a radio station would be using these huge, wonderful pictures of Michael for a remote broadcast so long after his passing. At first I thought it was because it was 9 years (almost) to the day since his suicide. But found out that the hosts of the show – Amanda Keller and Brendan Jones and their radio station WFSM 101.7 were racking up votes to make the Sydney Opera House one of the 'new' SEVEN WONDERS OF THE WORLD.



I asked my boyfriend to take a photograph of me beside one of the banners and just as he lined up the shot, our digital camera lost juice and sadly we resigned ourselves to losing our chance for a great memory.
When we emerged from the tour, the broadcast had ended, Amanda and Brendan had left and they had packed up the huge posters. My terrific guy talked to a young man (Brad) who was obviously organizing the exodus, and without skipping a beat, he had the crew put the poster back up, and found a digital camera and took a photograph…………..thank you Brad xxxx. Unfortunately, after many emails sent to the team at WSFM, they were unable to find that particular photo but were kind enough to send us this one. Thank you to Kristy-Lee Lorraway, the producer of the WSFM Breakfast Show.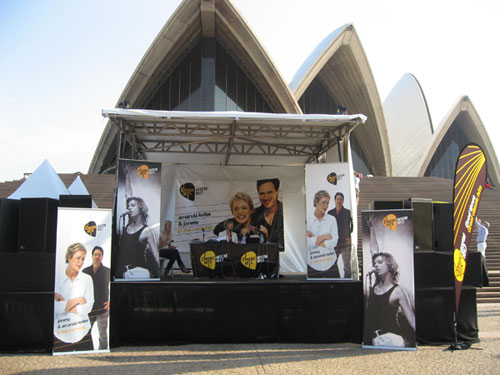 WFSM 101.7 broadcasting "LIVE" from outside the Sydney Opera House
in November 2006
Brad was very sweet, asking questions about Tiger and such. I enquired why they only had photographs of Michael for the event, why not other entertainers too; and Brad said that they only use Michaels' image because, "..well, he IS rock and roll".
Thank you Australia xxx
Thank you Michael, you have brought so many wonderful, interesting people into my life. And thank you all for being so supportive and visiting this site for Michael.
Tina Hutchence
San Francisco, CA.
January 12, 2007