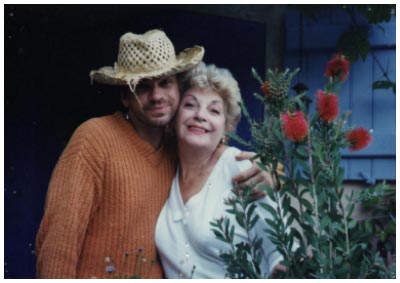 Michael & Patricia at the Villa in France


(photo courtesy of Patricia Glassop. copyright material)
A WELL-WORN watch and a silver ring belonging to the late INXS frontman Michael Hutchence have become a precious Mother's Day gift given to the rock star's mother.
Hutchence's personal items were among many others recently sold on an internet auction website by his love-struck younger brother, Rhett Hutchence, 10 years after Hutchence was found hanged in his Sydney hotel room.
New Idea magazine bought the personal memorabilia from the eBay website and as a gesture for Mother's Day, gave them to Hutchence's mother Patricia Glassop, who treasures the gift.
"It was one of the best Mother's Day gifts I could have received," Ms Glassop wrote to the magazine.
"I could 'feel' Michael's aura around me. I will treasure this forever and it will be passed on to Michael's divine daughter Tiger Lily, who also lights up a room with her, Michael's, smile."
Mother Patricia and brother Rhett, who have both authored biographies on the rock star, describe Michael as a loving father, brother and son.
"Michael was a wonderful son who always kept in touch when on tour with INXS and he always said 'I love you Mum' before hanging up the phone. I have wonderful memories of him. That is something no one can take away," Ms Glassop said.
The yellow-dialed "smiley face" watch and the worn silver ring, featuring a moulded face, were among more than 40 objects that have been sold on the eBay auction website by Rhett Hutchence.
The Byron Bay 44-year-old was publicly disowned by his mother two months ago for selling the personal items, which included a faxed love letter to one-time girlfriend Kylie Minogue, lyrics to the song Mystify and a pair of prescription glasses.
However, the younger brother defended making more than $35,500 from the sales, saying he is in love and needs the money to move to The Netherlands to be with his 28-year-old flight attendant girlfriend.