Just A Thought

by Tina Hutchence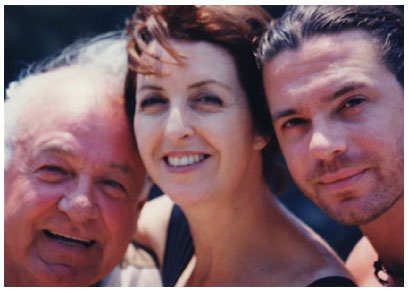 Happy times with Kell (Michael's father), Tina and Michael (1994)
This site is here for Michael's fans to come to pay their respects & to find comfort in communicating with others who love & respect Michael & his music. Yes a collaboration
of music, not solely with inxs.
But this site is for another purpose – to expose the lack of awareness for depression & suicide.
I would hope that with Michael's story out there, we could learn something. Because no matter how loved by an audience, how famous, how many people surround you on a daily basis (ie. roadies, tour managers, band members – it can be lonely. A person in this position needs more than ever to have a friend step-up & say, 'You have to get off this merry-go-round & get professional help in your personal life. Let me help you'. Isn't that what we tell others here,
to be aware of your friends? All of us (his family) wish we could have been there to do this,
but his family wasn't traveling with him.
Why is it not okay for me to question the actions of management and band members & everyone else traveling with Michael in his last 4 months? I'm the one who lost a brother – a blood brother. I should think that anyone of you would do the same. I have never accused any one person of forcing Michael to take his life.
I am, however, entitled to speak up about the circumstances surrounding his suicide & what lead up to it. It's the only way to get the word out & help others. With his work with Amnesty & Greenpeace & Make a Wish other charities involved with saving the rain forests; Michael was definitely into helping others. Not everyone holds press conferences when they put time and money into charities & causes.
I get the feeling that some people think that inxs has suffered more than Michael's family. I would ask inxs why they don't stand up for Michael and put a stop to the stupid and hurtful AEA story; the press would listen to them. In fact the Coroner Derrick Hand should have simply had inxs read his findings of depression & ultimate suicide out to the press – it would have gotten much more coverage. It would just take a press release. But no, I sit here & write & call editors who don't care –it doesn't sell newspapers.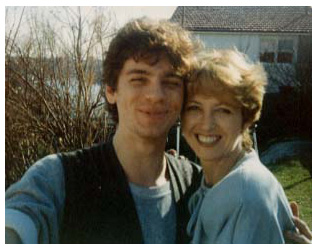 Michael and Tina
(Sydney, Australia - 1984)
I would ask Bob Geldof the same since with his money and connections he made sure that he was made the person solely responsible for Michael's daughters' welfare. I would think that if he truly had her best interest at heart, he would be the first up to the bat to make sure the media got it right; and what about all those Godparents?
What is the reason for people to put their heads in the sand when it means a little girl is growing up with the stigma of a rumour which has taken on a life of its' own? Especially when she is not surrounded by her blood family who want to love her, want to protect her, want to assure her of the truth. She will never hear the truth in that household.
You don't have to feel like you are taking sides in responding or not to this message. The fact is none of you will have the inside information to do so with authority. You will have read only what publicists and record companies want you to read. I do have a right to raise these questions, however, & I do have a right to continue to be a fan & to love inxs music.
Tina Hutchence
Los Angeles , California
May, 2004
I will never respect Bob Geldof, but I will always respect the members of inxs no matter what choices they make in their music.
I have said before that I can understand that some people think Tiger should be with her sisters' – yes in a perfect world she should be. In this case she is being cared for by a series of nannies. If she looks happy when being paraded around by Bob for 'photo ops', I would have to thank the nannies. Stevenxs was right, Justice Bracewell made a bad decision to allow a man who is not a relative & definitely not a friend, take over the position of influence over this child. She had not lived with her siblings for 2 years before her mother died. So tell me why didn't Bob help her (Tiger) when we begged him two years before she was found alone with her mother? It was he who told us that PY was in rehab, not 'grief counseling'. He knew all along, that is how he won custody of his children.