On September 24th 2012 INXS will be celebrating the 25th year anniversary of 'KICK' by releasing special Deluxe, Super Deluxe and Digital versions of this landmark album.

The Super Deluxe Edition will feature amazing unseen personal home movie documentary footage. A taster of this footage is hosted here..
http://petrolelectric.com/kickhomevideo/
Released in 1987, 'KICK' propelled INXS to a new level, cementing their reputation and firmly establishing the band as a force to be reckoned with worldwide. Kick changed everything, becoming a slow-burning phenomenon that thanks to its trailblazing lead single, 'Need You Tonight', broke out around the world over the next 18 months. If ever a record embodied the oxymoron 'complex simplicity', Kick, the sixth album by INXS – Michael Hutchence, Andrew Farriss, Kirk Pengilly, Tim Farriss, Garry Gary Beers and Jon Farriss – is it. It's an album so full of surprise, that even from a distance of 25 years, when you listen to it, you're still waiting and wondering what exactly is about to happen next. The album spawned 4 US top 10 singles in a row including hits such as 'New Sensation', 'Devil Inside', and the timeless ballad 'Never Tear Us Apart', alongside fan favourites 'Guns In The Sky' and 'Wild Life'. Certified eight times platinum in the US alone, Kick sold over 14 million copies worldwide.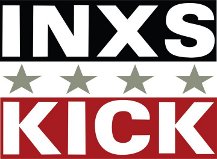 INXS's most world- renowned, career defining and influential album release to date remains a true classic. The 25th anniversary celebrates Kick'sremarkable story and its lasting importance, influence and inspiration on today's music. Illustrated by the fact that so many artists are still covering and sampling tracks from the record to this day. From Ben Harper's funky take on 'Devil Inside', to Professor Green's and Liv Tyler's renditions of 'Need You Tonight', (the former of which reached top 3 in the UK charts, while the latter was recently used as the synch for the recent global Givenchy campaign) Kick has inspired a variety of artists in the last 25 years including Snow Patrol, John Mayer, Beck, Tom Jones, Joe Cocker, Natalie Imbruglia, and Bono . It has also been widely reported that Adele's "favourite song of all time" is 'Never Tear Us Apart', and rumour has it she has recorded a version of this song for her 3rd album.
For a group that has enjoyed the highest of highs and the deepest of lows, Kick cannot fail to have a special niche in the hearts of those who made it: Kick is a fabulous collision of style, substance, musicianship, hard work, integrity, production, marketing, and passion – everything that one of the greatest albums of its era should be.
The 25th anniversary release of 'KICK' will include a Deluxe edition, a Super Deluxe edition and two Download editions. The Deluxe edition set will include 2 CDs, the second featuring remixes and bonus material. The Super Deluxe Edition package of 3 CDs and a DVD will feature demos, remixes, video promos, and unseen documentary footage. It will come with a 64 page art book, which will include never before seen handwritten lyrics directly from Michael's family archives, unseen photos, diaries, and interview with each band member and producer of the record Chris Thomas. For nostalgia appeal, a KICK sticker sheet and original tour poster for your bedroom walls will also be included. There will also be a Heavyweight Red Coloured Vinyl Limited Edition available.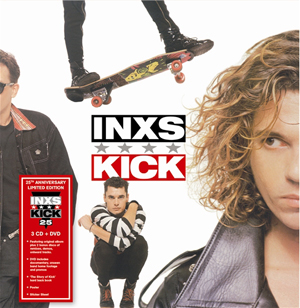 With a career spanning over thirty years, INXS are one of the biggest rock groups in the world today. The Sydney based band originally made waves in 1982, both down under and the USA, with their chart topping single, 'The One Thing'. Since the release of 'The One Thing' INXS has sold a staggering 30 plus million records worldwide, achieved 6 consecutive Top 10 UK and US albums, 23 UK hit singles, countless awards from peers and fans alike, and have performed over 5000 shows to over 25 million people in over 40 countries. The Bands album Platinum, 'Greatest Hits' has gone Top 10 in over 14 countries around the world – the majority of which went # 1. The stats speak for themselves: INXS are Australia's greatest music export.
"By the time we got to Kick we really felt we were in our place in our time. We had been very fortunate to be nurtured by people of great calibre, so why not go the whole distance and really explore, gloves are off, dogs are off the chain, let's go for it."
Andrew Farriss, 2012
"We were so caught up in what we were doing we didn't think about sounding contemporary or not. This slinky rock and roll is what we do."
Tim Farriss, 2012
"At last we're not the underdogs"
Michael Hutchence 1989
The 25th anniversary editions of INXS' 'KICK' will be released by Universal Music on 24th September 2012.
You Tube Reel:
http://www.youtube.com/watch?v=dZXZ9qzD-00&feature=youtu.be
Worldwide pre-order links here:
KICK
Super Deluxe (3CD + DVD + Book)

KICK
Deluxe (2CD)

KICK
Limited Edition Red LP

Watch INXS's original videos from the KICK album on youtube

Need You Tonight

Mediate

New Sensation

Never Tear Us Apart

Devil Inside

Guns In The Sky