Michael by Patricia Glassop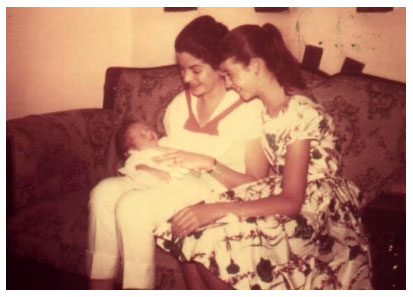 Patricia with Michael & Tina: First day home
(photo courtesy of Patricia Glassop. copyright material)
The day Michael was born was one of great joy... He opened his dark Irish/Spanish eyes and smiled at me... as though he already knew me. Well, I guess most mothers think that is the case when their children are born... the timing seemed just right for both of us. TigerLily has those eyes and each time I see a picture of her I feel both sorrow and happiness...she is him re-born.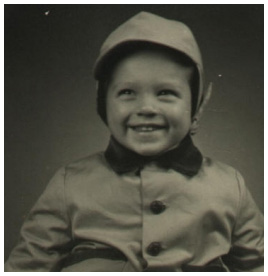 Michael age 2 (Australia, 1962)
(photo courtesy of Patricia Glassop. copyright material)
The day Michael left me to join INXS was devastating to me...the timing was wrong. He was only 17 years of age and we hadn't spent enough time together. Perth was so far away from Sydney. Little did I know these boys would have such a wonderful career ahead of them... one which would take them further away...in fact around the world a few times.

I was working in a studio in North Sydney when he left and he wrote and said he misses me and watches The Young Doctors just to see my name on the credits. On their return from Perth I was still on The Young Doctors and Michael would often pop in to get a quick make-up done for a 'photo shoot'. This meant he would spend quite some time in the Green Room while waiting for the make-up chair to be vacated. It also meant he got to spend a lot of time with The 'Young Nurses' on the show. Some of these actresses were extras in The One Thing video which I did the make-up on. It was there I saw Michael's love affair with the camera... it loved him too.

I don't know who coined the phrase 'don't put your daughter on the stage' but as I listened to Delta Goodrem singing her song 'I was born to try', I recalled that day and realised he was born to entertain and he was right to follow his dreams... as I did.

INXS made it really big and were loved all over the world. Michael loved to travel...all the more reason to be in a great band with friends and see the world. Even when they were having some time off Michael would get on a plane and go wherever it took him. We had some wonderful times together and met in some wonderful cities all over the world.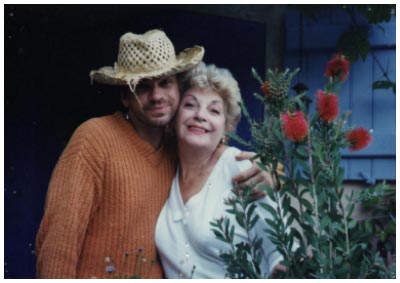 Michael & Patricia at the Villa


(photo courtesy of Patricia Glassop. copyright material)
It has taken me a long time to be able to listen to his music...to look at his memorabilia..his photos.
But I know he was successful and left his mark in this world.
Even as shy and gentle as Michael was... when he got in front of the crowd he just lit up.
Michael was a wonderful loving son and I loved him unconditionally.

Patricia Glassop ( Feb 2004 )