MICHAEL IN PICTURES - Competition
Competition is now closed.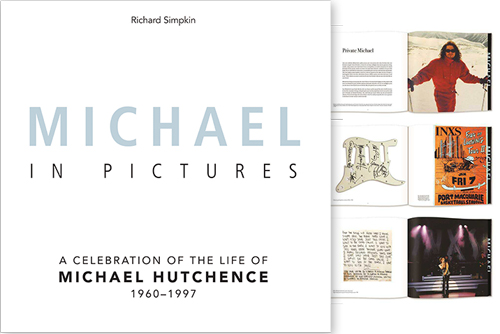 About the book
This is a celebration of the extraordinary life and journey of Michael Hutchence (1960-1997). Embodied in this illustrious presentation are many never-before-seen photographs featuring Michael throughout his early life, his rise to fame as lead singer of the internationally acclaimed band INXS, and hundreds of private and candid behind-the-scene memories snapped by author and photographer Richard Simpkin. Richard developed a close bond and friendship with Michael and his family. As a budding photographer, he captured hundreds of images of Michael over many years and was encouraged by Michael to turn this hobby into a full-time profession. Interestingly, the final photograph capturing Michael was taken with Richard snapped by Michael's father, Kell Hutchence, just two days prior to his untimely death. Richard's collection of memorabilia featuring Michael and INXS is considered second to none derived from his years spent at recording studios, rehearsals, concerts, backstage and private band parties with Michael and the band. Enthusiasts will admire this most powerful and personal presentation of Michael, a superstar who made it to the top in the music world.
To celebrate the life of the legendary INXS frontman Michael Hutchence, we have three (3) MICHAEL IN PICTURES books (by Richard Simpkin) up-for-grabs.

The three (3) lucky winners names will be drawn on the 29th April 2018. Only one entry per person and you will be required to answer all three (3) questions correctly to qualify for the draw. Any multiple entries will be deleted. Winners will be announced on this website and on our Facebook page soon after the draw has taken place!

Thank you & Good Luck
Ricky Watcham / Tina Hutchence
22nd January 2018
---
Competition is now closed.

home | news | biography | gallery | albums | lyrics | walk of fame | store | foundation | just a man | library | the fans | in his own words | support | links | communicate | contact