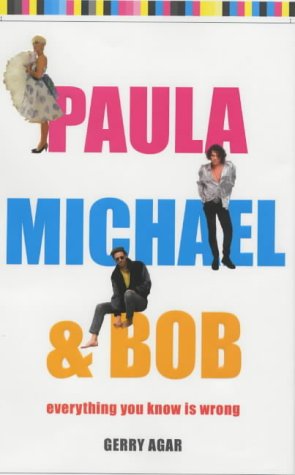 Gerry Agar's Book
From Tina Hutchence
Santa Cruz , California . January 2004


Over the last several months I have been asked to comment on a book written by Gerry Agar, who became friends with Paula Yates in 1992 when their children attended the same school. She eventually became a publicist acting for both Paula and Michael in 1995 ending in September of 1996 at the time that drugs were discovered at Paula's house in London .


I must admit that I did not want to read this book which is titled 'Paula, Michael and Bob" Gerry Agar – Everything You Know is Wrong'. However, after reading it I would have changed the title to 'Mistress of Mind Games' or 'Confessions of a Dangerous Mind' – alluding to Paula's mental fragility and capacity to fictionalize every part of her life.
For the most part this book is about Paula, and Ms. Agar depicts her as she was – that is when it came to multiple personalities, Paula rivaled Sally Field's 'Sybil'. This book confirms that when pushed, Paula became a serial liar whose habitual storytelling unfortunately played a huge part in Michael's unraveling. This is the most painful part for me as I read it. Page after page Ms. Agar tells of Paula's lies to Michael, causing him to react to a distorted view of his world.
I did not want to read this book because I wondered what I could glean from an author who had been confidante to Paula, but had spent little time with Michael. Surely it is no longer a secret that Paula had been diagnosed as a 'borderline personality'– a very dangerous condition to most of those around her because of her intimate access to the press . It is evident in Ms. Agar's book that Paula who was highly intelligent, could be witty, and thoroughly entertaining, but when she was stressed by her acrimonious breakup with Bob Geldof, she delved deeper into both legal and illegal drugs,. She became desperate and her dark side emerged.

Frankly, anytime I have read something written by a friend of Paula's, it has been all about blaming Michael for most of what went wrong in Paula's life. In fact you could say the same for the presence of Paula in Michael's life and I just didn't want to read any more of that simplistic fiction.
Having said that, I have to tell you that Ms. Agar's book is well written and entertaining (even still as someone close to Michael very hard to read). The aspect, which bothers me the most, is that it is factually challenged. By that I mean my copy is all marked up where there are inaccuracies, which could have been avoided had the author researched further. It is very frustrating to read inaccuracies in a book especially when it affects your loved ones and although Ms Agar quotes many passages from 'Just A Man' , she also gets many things out of newspapers and magazines-and we all know how accurate they are.
She makes note of Michael's excessive drug abuse both legal and non – to kill the pain and frustration, downing anti-depressants; when she and others who saw this could have made contact with Michael's family who were on another continent. Don't get me wrong I am not blaming any one person for Michael's suicide – ultimately this is a split second decision one makes when 'stuck in a moment'. It just shows how unattached friends and business acquaintances can be.
I personally listened to Michael lament about his atrocious life in London and how he was certain that Bob was trying to gain custody of Tiger Lily. When go back to his 1996 through 1997 faxes with accounts of injustices against Paula I am beside myself to read in Ms. Agar's book that most of it was in Paula's head. It's a tough, personal, read for me.
I was not surprised that there were misrepresented facts in this book as I had read an article written by Ms. Agar in a British magazine after Michael's passing in which she depicted Michael as an eleven year old residing in New York with our mother. It was a very unflattering piece on my mother and completely fictional. At eleven years of age Michael was attending school in Hong Kong where the family lived. Mother has never lived in New York and Michael did not even visit the city until he was in his early twenties. It is obvious that most of the author's information came from Paula for this article and no doubt the same goes for much of this book. My question is how much of this account was seen through her own eyes, and how much is out of Paula's vibrant imagination? It is hard to tell from some of the passages.
Ms. Agar recalls how she came across Michael at the kitchen table, head in arms – obviously he had been crying. He told her that he wanted his daughter brought up in Australia and was frustrated that even though she held an Australian passport, he could not get her out of London . She never spoke up when the time came to decide Tiger's residence. But after reading the last chapter in this book I understand why. She ties the whole story up with the last chapter becoming a final tribute to Bob Geldof.
Finally, she was not there when Bob took Tiger out of the country when Kell tried to see her; she was not there when he took her out of the country when Patricia went to see her, or when I wanted to visit with her. She definitely was not there and did not get a clear picture when she says that Mother and I were "allowed to spend cherished time with Tiger, no longer subject to the rules laid down by Belinda and Paula". If she were there she would have seen Tiger arriving at our hotel with Belinda Brewin and her own child along with journalist Jo Fairley. They sat in our rooms and interrupted all conversation with Tiger and monitored every move we made. I asked Jo –who I had never met before, why she was there and she said that Bob told her to stay and watch us!
I would recommend the book, but the real life ending is not tidy – life never is.


Tina Hutchence