Carolyne (or you can spot her on the message board as"CAZ"), recently had the opportunity of asking Michael's sister Tina some interesting questions that help us get to know Tina a little better.

WHAT WERE YOU LIKE AS A CHILD?
I was a very shy child. I attended Roman Catholic School until the age of 12 –several of them, so I was frequently the new girl. Schooling with nuns in the fifties was pretty oppressive so the combination caused me to withdraw even more.
WHAT WAS THE NAUGHTIEST THING YOU DID AS A CHILD?
When I was six years old, I cut off every single curl from a playmates head – the day before she was being photographed for a shampoo advertisement.
DID YOU GET FOUND OUT?
Are you kidding?
DID YOU ENJOY SCHOOL AND WHAT WERE YOUR BEST SUBJECTS?
I disliked every minute of school – except lunch hour. The nuns were very intimidating. My best subjects were Mathematics and Home Ec.
I READ IN YOUR BOOK THAT THE FAMILY ORIGINALLY CAME FROM UK , DO YOU KNOW WHERE THE HUTCHENCE NAME DERIVES FROM?
I actually don't. It was Kell's family that came from the UK ; he was the first Australian born in his family. Kell's father was a sea captain but he was deceased by the time Kell married my mother, Patricia. Kell did not have any other relatives in Australia but for his mother and sister. As he was born in Sydney , he did not have much knowledge of the rest of his family. Do you know any 'Hutchence' in England ?
WHEN YOU FIRST MOVED BACK TO SYDNEY , WHAT WAS IT LIKE COMPARED TO NOW?
I moved back to Sydney for a short time in 1968 after living in H.K. and it was like being smacked on the head with a 'macho' mallet.
Life was very easy going in Hong Kong and the European men were very different from their Australian counterparts. Also, my social life had been very busy with cocktail parties, movie wrap parties, dining at exclusive restaurants and dancing- not the typical teenagers' social calendar. In HK I never really had to wait for someone to ask me out on a date. Returning to Sydney was going back to reality. I was starting over again, attempting to make friends in what was now a strange land.
I haven't been back to Sydney in some time. It has too many sad memories now. But it is a beautiful, thriving metropolis and my children love it.
DID YOU ENJOY LIVING IN HONG KONG?
I am sure you can tell from the book, I loved Hong Kong , we all did. It is part of the reason that Michael went back after INXS became a success. It was the first place I had lived where, I felt that I belonged.
WHAT IS YOUR FONDEST MEMORY OF THE PLACE?
That is difficult, there are so many. I think I was the happiest when we were living in a house in Stanley on Victoria Island . We were renting it from an editor at Time Magazine.
It had a cliff at the back, which had lots of steep steps down to a private beach. The waves crashed over the wall to a pool – I loved that house because we would all gather when Kell got home from work and my parents would have cocktails and Mother would put on her favourite music.
The house was a mixture of sounds. Aretha Franklin, Ella Fitzgerald, Tony Bennett and yes, even Tom Jones pulsing from the living room. The Rolling Stones and The Beatles were blasting out of my room. Michael and Rhett playing whatever noisy game they had on the agenda and wonderful aromas wafting from the kitchen where the cook was busy at work.
YOU HAVE TRAVELLED TO QUITE A FEW PLACES - WHERE IN YOUR HEART IS HOME?
The United States is home to me. As a child I watched all the American television shows and my grandmother took me to movies twice a week(mostly American musicals). I just knew that as an adult, I wanted to live in the USA . I connect with the American culture. As a whole they are so confident and optimistic. I really like that. Australia is very beautiful and the people are wonderful and down to earth; I just feel more at home in the U.S. I may have escaped into too much American television as a child?
WHAT DATE IS YOUR BIRTHDAY?
November 23 rd , but it just doesn't seem like a good day to celebrate anymore so I don't. I have not officially changed my birthday, but it just naturally falls on a different day now if you know what I mean.
YOU HAVE TWO CHILDREN, BRENT AND ERIN, WHAT ARE THEY UP TO THESE DAYS?
Erin is an assistant Art teacher at a private school, and married to her long time boyfriend Joshua, who is studying to get his degree in law and they now, have a gorgeous little son. Tiger wanted to name him Gabrielle when I sent her a picture of him, but 'Benjamin' won out.
After graduating with a degree in Global Studies, Brent embarked on a number of things – he really stretches himself. At this time he prefers construction and is looking toward purchasing, renovating and renting homes. He has always wanted to settle in Australia , so who knows? He is also an entertaining writer and I would love to see him pursue that talent.
WHAT KIND OF MUSIC DO YOU LISTEN TO?
Recently -Norah Jones. Ongoing, I love smooooooth jazz and blues. Ella Fitzgerald, Nina Simone, Sarah Vaughan, Dinah Washington, Billy Holiday, and Tony Bennett are favourites. I love what Eric Clapton can do with a guitar and a feeling; and I know it may not be hip to say, but I love Elvis' voice, he had a way with gospel music. I know, I know, drag me into the 21 st century, please, someone.
DO YOU OWN ANY PETS?
My last pet was a cat –left over from Erin , as Josh is allergic to cats. She named her Fellini , and she now lives with Michael's former girlfriend and my friend, Jonnie.
Fellini sat at my computer the whole time I was writing the book, she would jump up and run to the fax machine and wait for the printed paper to come through – even when I had the ringer off. We just visited her two weeks ago and she is very happy with Jonnie.
AND ONE LAST QUESTION, THE ONLY ONE ABOUT YOUR BROTHER, CAN YOU TELL ME ONE OF YOUR FONDEST MEMORIES OF HIM, FROM WHEN HE WAS A KID AND WHEN HE WAS AN ADULT?
When I left Hong Kong to come to the USA , Michael was 10 years old. My mother accompanied me to the Kai Tak airport with Michael and Rhett. I was getting cold feet embarking on this trip on my own with very little money.
I remember sitting at the airport bar with Michael at my feet reading and sipping his lemonade. He took an envelope from his book and handed it to me. I opened it to find the card you see here. Why did I keep it? It just moved me the way he got up and hugged me as if he thought he would never see me again. It made me realize that I had been more than a big sister to him, I had filled in when our parents could not be there.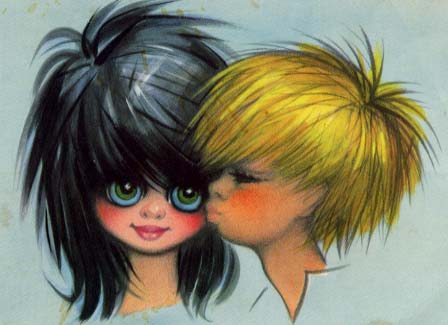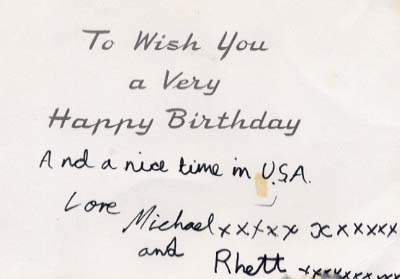 One of the endearing things about Michael was his humility. On a trip to Paris , Erin and I had packed enough winter clothing and gifts to fill a moving truck. At the time Michael and Helena were living in a tiny, walkup (two hazardous flights). On the day we were catching a train to Nice, he got Helena on her way to a modeling shoot, woke us up with fresh baguette and cheese and tea and bundled us out the door. He came behind with our suitcases down the winding, narrow stairs. When we got out into the street he had trouble hailing a cab as we scrambled behind him.
When we got to the train station he picked up magazines and newspapers, (all in French, didn't matter we don't speak the language), and food, and found the best seats he could on the train. He stowed away our luggage and gave explicate instructions on what to do about exchanging our US $'s so as not to get cheated, which stop to get off?? What to say to someone who might be bothering us, etc., etc. He was now taking care of me…….you have to love that.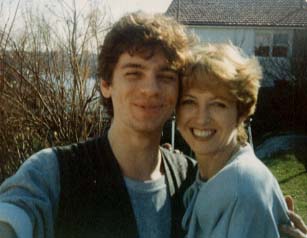 Michael with Tina - Sydney 1984