ROSS HUGGINS GLASSOP
May 5, 1921 – May 10, 2009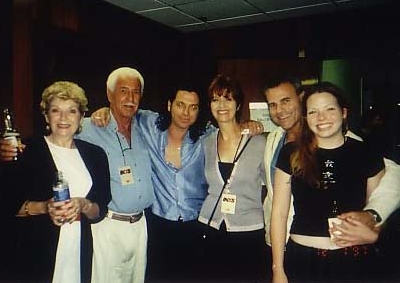 Good times : Ross backstage at an INXS concert
The Distinguished Flying Cross (DFC)is awarded to junior and warrant officers of the air forces recommended for quote, "an act of valor, courage, or devotion to duty performed whilst flying in active operations against the enemy".

A young flight lieutenant Glassop was awarded the DFC at the age of 24 when he was stationed in Bougainville, Solomon Islands.
In part his citation reads, 'Flight Lieutenant Glassop's exceptional ability to discover the most carefully camouflaged enemy positions in jungle terrain has resulted in the destruction of large quantities of enemy material including 50 motor transport. His keenness and enthusiasm coupled with his energy and initiative have been an inspiration to all other pilots in the squadron.'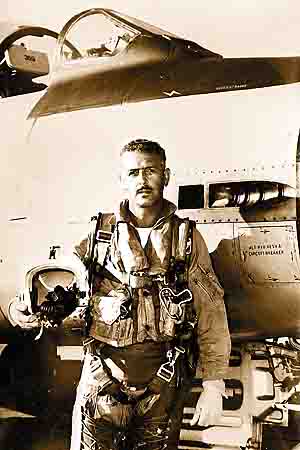 Ross Glassop
Ross joined the Royal Australian Airforce in March 1941 after quitting his job as a teller at a bank. He was 19 years old. His father Leslie had arranged a flight at Kingsford Smith Airport two years earlier and he had become obsessed with planes.
Ross was assigned to the 76 squadron in 1942, arriving in Townsville on May 24th where he flew his first Kittyhawk on that very afternoon. He was sent to Milne Bay on July 24th, and participated in the historical battle of Milne Bay.
This was a highlight of Ross' airforce career, stationed in New Guinea, 21years old, flying Kittyhawks under the command of squadron leaders Peter Turnbull, DVC and Bluey Truscott DFC/Bar – both men whom he looked up to.
Ross often said that he learned quickly that it was more advantageous to be the leader in a formation than to be a sitting duck in the rear. So he worked hard on his flight skills to become a squadron leader in record time.
At the age of 32 he was awarded the citation bar to the DFC. As a squadron leader in Korea he was commended for his skillful planning and leadership ability of the highest order when, despite adverse weather conditions and accurate ground fire he located the target and brilliantly led his squadron in on the rocket attack causing the destruction of 129 buildings.
After 35 years of service in various units in Australia, Malaysia, Japan and Thailand –training, flying; and flying instructional duties; Group Captain Glassop retired and moved to the Gold Coast.
The Airforce taught Ross a lot about being an aviator. During his time he piloted Mustangs, Meteors, Wirraways, Kittyhawks, and many more aircraft; but without his inner strength, his quiet courage, his fearlessness, his dedication, his loyalty and passion for doing what is right – he would not have gained the respect and admiration of those men he commanded.
Perhaps Ross' true fearlessness came when he married my mother and took on three adult stepchildren and 2 grandchildren. There are now 8 grandchildren and 3 great grandchildren. We all loved Ross.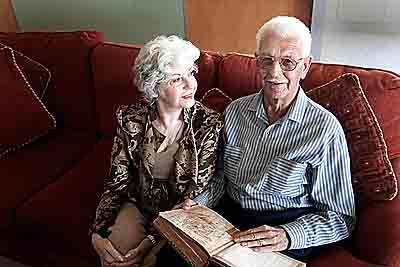 Ross Glassop with wife Patricia
Ross the Boss is what we sometimes called him because when we were together he had a way of 'organizing' us. He would say, "We'll meet downstairs at 0900 and take 3 cars; I'll be in the lead. The restaurant is reserved for ten hundred and afterward the light in the garden will be perfect for a group picture."
There would be groaning and moaning about being out for brunch by 9am, along with the military undertones, but we would be on time, we all loved it because a group needs a take charge leader and Ross was definitely that person.
Ross had never heard of Michael before he met Mother. He quickly became a fan when she took him to a concert at Madison Square Garden, New York, in late 1990, while they were on their Honeymoon –a world trip. He also met Helena Christensen that evening. When Michael's security took Mother and Ross and Helena into the special area reserved for family and friends, he could not believe the roar from the audience when Michael stepped onstage. From then on Ross would have the security take him into the front of the stage in order to get some great photos of Michael and INXS. Ross often said he went from Group Captain to Groupie.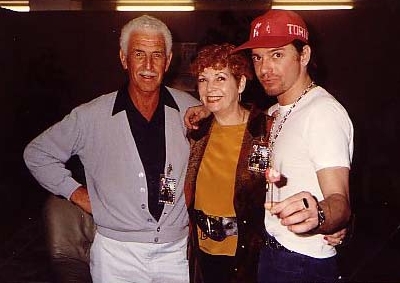 Ross with Patricia and Michael
I just want to say that the two things I most respected and loved about my stepfather was; for the past 20 years he loved my mother so deeply, his devotion to her had no boundaries.
And most of all, Ross was a most honorable man –the finest man I have ever known. My children and I will miss him beyond words that I could find in the dictionary or in my heart. But he will stay in our hearts forever.

Related site : http://www.news.com.au/couriermail/extras/ww2/rossglassop.htm


Tina Hutchence
Main Beach, Australia
May 18, 2009