Seven by Tina Hutchence

It is three years this month since we lost our friend Seven. I thought it fitting that we include some of his lyrics on this page. I loved the way he could zero in on the 'feel' of a song when he delivered on stage and even when I read it on the nakedness of paper. With one line, he could make my head explode with a thousand images.

______________________________

1976

We were young and out for kicks

We were million dollar babies

Knieval was crazy

Bubblicious on your lips

From 'Bottle Rockets' - Lyrics by Seven Pearson (1997)
The Cunninghams- Zeroed Out

Seven

Pearson: 1965 - 2001


(photo courtesy of Robin Swanson)
We all miss Seven so very much though as I sit here writing this, I can't help smiling because I think of his sweet nature and eagerness with every breath to give his audience what they wanted. He was the same with his friends
- I don't think he knew when to stop giving of himself. He was friendly and gentle and sexy and smart and always had time for his friends and was always available for his audience after a show.

Seven's note to Ninon
(photo courtesy of Tina Hutchence)

'This letter from Seven to Ninon was written on a paper napkin - even in his haste he was a poet'.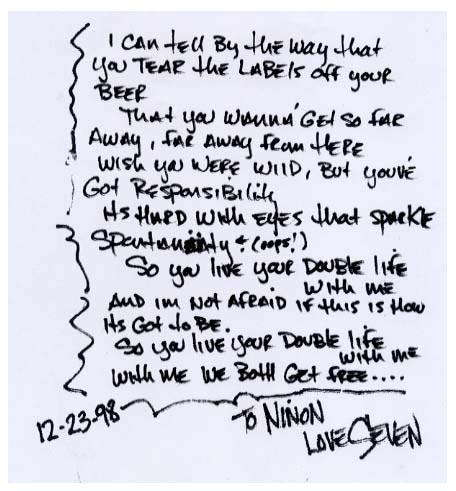 _________________________________________
Zeroed out on Vicodin
Sugar smack your only friend
Peel away your face on a Saturday night
Where do you get the appetite?
From 'Narcolepsy' – Lyrics by Seven Pearson (1997)
The Cunninghams- Zeroed Out

_________________________________________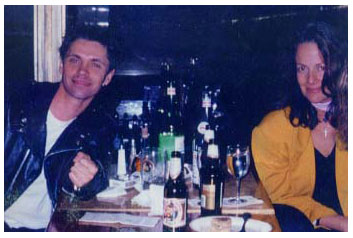 Seven and Ninon (2000)
(photo courtesy of Tina Hutchence)
We will always love you Seven, wherever you are.

Tina
11th February 2004
______________________________

more info:

related article in archives : "A CELEBRATION OF LIFE - SEVEN PEARSON: 1965 - 2001"