Sharing
by Tina Hutchence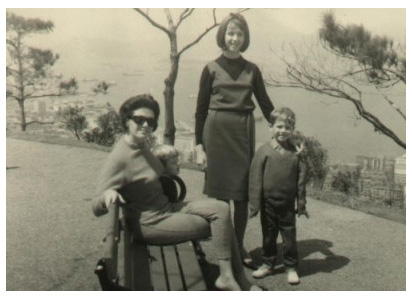 Michael with Tina, Rhett (hiding) and their mother Patricia
Hard to believe it has been 11 years since Michael's passing. During that terrible time in 1997, I often spoke to my higher power and begged to be jettisoned forward ten years in the hope that Michael's loss would not feel so great.

In my heart I still feel a tremendous loss. There is not a day that goes by that I don't at least once think, 'Michael would love that, Michael would think that was a milestone, Michael would be so pleased to hear this, Michael would laugh so hard if he could see this, Michael would have something really sharp to say about this, and I wish I could share this with Michael'. Everything is about sharing, sharing with someone who means so much to you. Sharing with someone who you know in your heart would enjoy the share.
This is how I feel about the fans. Over the years I have shared many, many memories that I hold dear. I don't feel that I have betrayed Michael on this, he was a very giving person and loved to share stories of past experiences. This was a concern when I was writing 'Just A Man', but after hearing from Michael's closest, most loyal friends and confidants, I realize that I made the right choices. There are a few precious memories that we keep to ourselves, kept in a special place to share only with Tiger when she is ready, when she comes to me.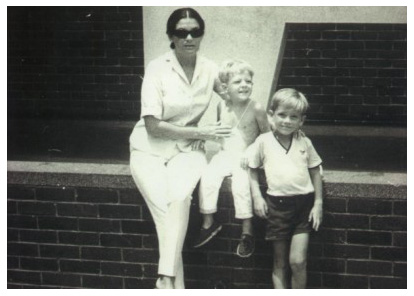 Patricia, Rhett and Michael
It occurred to me as I write this, that 11 years ago today I had already said good-bye to Michael in person for the last time. He had left Los Angeles for Sydney for the last time and I told him on that conversation that we would meet up for Christmas and wished him well on the last legs of the tour with INXS. I had no idea that I also, would be departing for Sydney in less than a week for a very sad occasion. I remember standing next to his casket in the cathedral on what was 'Thanksgiving Day' for my children and me, giving thanks for Michael's life.
I suppose I would say that I cherish my time with Michael deep in my heart, and the true void I feel now, is the absence of Tiger Lily in our lives. I do hold great faith that sometime, not in the too distant future she will seek out her father's family. I believe that there is a great plan, and although I am sad that she has so far missed out on getting to know her Australian family the opportunity will present itself for her to take the leap.
I would imagine that if he were still here, Michael would have a much lower profile than he once had. He would certainly be involved with Motion Pictures and possibly doing a solo album here and there. He would most definitely be championing the effort to curtail Global Warming. I can see him involved very much with his daughter, after all he loved children and seemed to have a special bond with all children. I believe that if he could, he would tell us how very much he regrets his decision in a terrible time in his life at the height of depression when he let go of everything he could have achieved and lost the chance to watch his daughter grow.

I have really enjoyed being touched by the thousands of emails and messages and letters that have come my way - it is impossible to respond to all of them but I trust that you all know how comforting it is to read them.
We continue to push for a star on the Hollywood Walk of Fame and I trust that it will come at the right time to honor Michael's contribution to Music. If anyone has any ideas on how to achieve this, please let us know.
I wish to thank Ricky for his continued faith and loyalty to this site – he continues to do a fantastic job and he supports Michael in the way that I had first envisioned. The site will have its' 5th anniversary in January 2009 and I owe everything to Rickyrocks for the vision, the design and the drive. Ricky works on this site in his limited free time and I am forever indebted to him. He continues to be a genuine and honorable friend to us all.
Tina Hutchence
November 18, 2008