At last the value of Michael Hutchence's estate can be revealed: zilch. So what happened to his fortune? Kate McClymont investigates.
Eight years after his death, the family of Michael Hutchence has finally received the executor's report regarding the late singer's estate. Despite having an estimated fortune of between $10 million and $20 million, it came as no surprise to the family to find the cupboard was bare.
Hutchence's advisers say the situation is exactly as Hutchence would have wished, as he didn't want his "thieving relatives" and "girlfriends" to get their hands on his fortune. This, of course, is at complete odds with the wishes the rock star expressed in his will.
"I just cannot believe that it took them eight years to do this," said Hutchence's mother, Patricia Glassop, referring to a four-page letter from the Hong Kong law firm Boase Cohen & Collins dated August 2.
"Dear Madam," it reads, "We now take this opportunity of enclosing a final accounting prepared by the executor in respect of this matter for your file." According to the figures, the balance of the INXS singer's estate as of July this year was zero. The letter went on to say Hutchence had $506 in cash at the time of his death, while his share of INXS's bank balance was $572.
After the sale of art works, real estate, guitars, a Harley-Davidson motorbike, a Jeep and other items, the outgoings of the estate, which included $670,000 in legal fees, meant there was nothing there for the beneficiaries.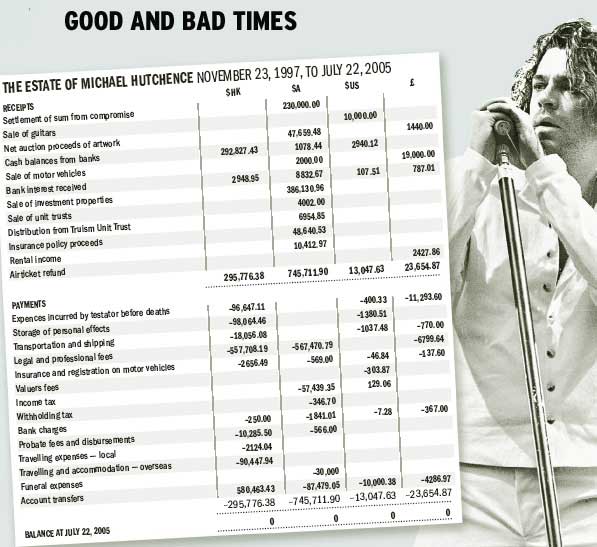 But not included in the executor's list were three Gold Coast properties worth more than $10 million, a villa in the south of France, rented at $9000 per week, a house in London's fashionable Chelsea, a development in Lombok, Indonesia, a string of luxury cars including a Bentley and an Aston Martin, as well as the continuing royalty payments from INXS.
Hutchence had structured his financial affairs not only to minimise tax but to protect his fortune from falling into the wrong hands. Accordingly, his assets were hidden in an unbelievably complex array of companies and trusts which criss-crossed the globe from Liberia to the British Virgin Islands.
Among those who might be able to shed light on the singer's financial affairs are: Andrew Young, a Sydney barrister struck off for not paying tax for 20 years; Tony Alford, a Gold Coast accountant recently held by a judge of the Queensland Supreme Court to be "a witness of little credit"; Gordon Fisher, a Monaco-based tax adviser whose activities were investigated during the Costigan royal commission; Andrew Paul, a Hong Kong accountant and executor of Hutchence's will; and Colin Diamond, a mysterious Australian lawyer who lives in the luxury Ascott Metropolis hotel in Auckland.
The Herald has obtained correspondence from Gordon Fisher, the man who instigated Hutchence's complex schemes before a falling out with the singer and the rest of the band over royalty payments.
Two years after Hutchence's death, Fisher wrote to the Hong Kong law firm handling Hutchence's estate explaining Hutchence's business affairs. While the ultimate holding company for Hutchence's assets, Fisher wrote, was the Vocals Trust, Hutchence was not the ultimate beneficiary of this trust in order to protect his assets from claims by third parties.
"In other words," wrote Fisher, "the Vocals Trust was an asset protection trust. As the deceased observed at the time, and subsequently, he wished to secure himself against what he called a) his "thieving relatives" b) his "girlfriends" and c) in the event he married, his wife/ies [sic] …"
He also said Hutchence was well aware of the risks in structuring his affairs in this way, and that he had to place his trust in those who had ultimate control over his assets.
Perhaps not realising the irony of his words, Fisher continued: "The deceased was a very worldly man and was acutely aware of his potential exposure to financial abuse by others."
Hutchence was found dead in the Ritz-Carlton Hotel in Double Bay on November 22, 1997. A coroner found his death was suicide.
The year before he died, the 37-year-old star had made a will in which Amnesty International and Greenpeace were each to receive $US250,000.
His only child, Heavenly Hiraani Tiger Lily, was to receive the remaining half of his estate, with the rest being split equally between his partner, Paula Yates, his mother, father, brother and sister.
Greenpeace has confirmed it never received the money, nor did Amnesty. The Hutchence family did not receive anything, while it is understood Yates, who died in September 2000, obtained an interest-free loan for £100,000 from a Liberian company that controlled Hutchence's royalty payments. It is not known whether Tiger Lily has been receiving any money.
So if the beneficiaries named in Hutchence's will came away empty-handed, where has the money gone?
Those currently involved in Hutchence's trusts include Colin Diamond and his business partner, the Gold Coast accountant and racing car enthusiast Tony Alford. Helping them is Gordon Fisher.
As well as controlling some of the Hutchence trusts, Diamond was an executor of the will but subsequently resigned to avoid suggestions of conflict of interest.
The connections between the various advisers to Hutchence go back a long way. Diamond and Fisher came to notice during the Costigan royal commission's inquiries into the bottom-of-the-harbour tax minimisation schemes. No charges were recommended against the pair.
According to a secret volume of the royal commission, Fisher had a business relationship with the late Brian Ray, who subsequently faced a long trial for tax fraud but was acquitted.
In the 1980s, Diamond, Fisher and Andrew Paul had set up business in Hong Kong as international lawyers and accountants. A decade later, the trio had come to the notice of the Australian Federal Police, who were investigating a complicated tax scheme in which a government agency lost $19 million and the ANZ bank $3 million.
While the police recommended Fisher be charged, the Commonwealth Department of Public Prosecutions declined because the case was too complex to run.
Diamond, frequently described as "elusive" in the press, has described himself as "a barrister practising in international law". But searches of the jurisdictions in which Diamond claims to practise - Hong Kong, Queensland and New Zealand - failed to find anyone of that name holding a current practising certificate.
Alford and Diamond, who have been business partners for years, are involved in a Queensland registered company, Elusive Enterprises.
Paul resigned as a signatory to the trusts after Hutchence's death but remains the executor of his will, which was drawn up by Young. Paul has indicated that Gordon Fisher is once again helping with Hutchence's affairs.
Another of Hutchence's advisers, Young, was struck off as a barrister in 2003 after the NSW Court of Appeal held he was not a fit and proper person. Young was bankrupted after failing to pay his tax for 20 years.
In 1998, Young and Diamond were interviewed by the now defunct music magazine axs .
Reporter: "You've copped a bit of a hiding in the press as some sort of financial Svengali to Michael, with suggestions that, with regards to his estate, all is not as it should be. You've refused to speak to the media before this, so let me ask you: Where's the money?"
Diamond: "None of your business. That's the point; it's private. Don't you guys get it? It's private."
Young was quoted saying: "From my discussions with Michael, his finances were structured precisely according to his wishes. I understand the money is exactly where it is supposed to be."
Wherever it is "supposed to be", it is certainly not in the hands of the beneficiaries named in his will.
Hutchence's family recalls his excitement when he bought a house on a huge block of land in La Spezia Court on the Gold Coast's Isle of Capri in 1995. Not only had $1 million bought the house, but the sellers had included their Bentley in the deal.
Imagine the family's surprise when it later received a letter from Tony Alford, saying: "To the best of the writer's knowledge, the late Michael Hutchence was not involved directly or indirectly with the purchase of the subject property and can confirm that no part of the purchase was funded by him."
A bowling alley in Labrador, also on the Gold Coast, which the family thought was owned by Hutchence, was in fact owned by a company called Nexcess, the directors of which were Alford and Diamond.
Documents obtained from Australian Securities and Investments Commission by the Herald show that not long after Hutchence's death, Pokfield, the same Liberian-registered company that had lent Paula Yates money, agreed to lend Nexcess millions of dollars.
Also absent from the Hutchence estate was a development site in Southport that changed hands last month for more than $8 million. Bought for $1.3 million in 1991, the site was owned by a British-registered company Nextcircle, which was in turn owned by two companies connected with Paul and Diamond.
The French villa at which Hutchence hosted his sister Tina's wedding also turned out not to be his. Instead, it was controlled by a British company called Leaguework, which was connected to Gordon Fisher's Monaco-based business partner Norman Leighton.
And while the executor of the estate recorded the sale of a Harley-Davidson for just $2000, the Sydney hotelier Kim Maloney bought Hutchence's custom-made Harley at auction in 2002 for $61,600.
The legal action the Hutchence family took against Paul, Alford, Diamond and others in the Queensland Supreme Court in 1999 was eventually settled out of court.
It is understood the amount the family received was not enough to cover its $500,000 in court costs.
In the end, Hutchence's mother said that what she received from her son's estate was "absolutely nothing".
Correcting herself, she added: "I got a couple of small bowls, some awards, and a big poster of Brigitte Bardot in And God Created Woman ."
(Taken from an article in The Sydney Morning Herald)
20th August 2005


Related News Articles:
The Advertiser
Bloomberg
Gigwise
The Age