"The Gift He Gave Is Going To Last Forever"
by Gary Lilley (part 1)




Hutch 1960 – 1997
Tina, as you are already aware I first met Mike in 1984. I have enjoyed writing down some of my very special memories during our friendship over the years.
Tribute To Michael From Gary Lilley & Ian Rylance – Newcastle, England.
We had some very special times with Mike over a period of 16 years, so the news of the death of our friend was devastating to say the least, he was such a great guy to be around, a keen sense of humour, and a deep sense of humanity. He was an amazing musician, an inspiration, and a comfort to so many. He wrote great music with Andrew and gifted it to the world, he was gallant with his worldly gypsy mystique, flowing mane, and tight trousers, he was a self confessed great rock star. We are so proud to have been acquainted with him, in a nutshell Mike wore his soul on the outside, he was too tender for this world, we were so sad to lose him, but happy that he's not sad anymore. Shine Like It Does.
************************************
June 1984 – The Swing
We had been listening to 'The Swing' after my pal Ian had heard 'The Original Sin' , so it was very fortunate whilst we were en route to Puerto Rico in South America that we were in New York for a few days when INXS were playing Radio City Music Hall. We introduced ourselves to the band, expressed how much we liked their music, the rest is now history.

July 1984 – The Swing
It was a great feeling to watch INXS open the Live Aid show, which beamed around the world. Since our initial meeting in New York we had taken a contact number for the bands' Australian offices so we sent a good luck fax over prior to the show, we were so excited around this time as we both knew INXS were going to conquer the universe.

May 1986 – Listen Like Thieves – The Tube Show
This was our reunion with the boys after one year in our hometown of Newcastle , this was the first night Michael met Paula Yates as she did that first interview for her show 'The Tube'. INXS did three songs from Thieves live and they were great.
A great time was had by all after the show as we spent the evening at two local bars nearby, at this time Michael Long (INXS road manager) was with the band and they were on quite a tight budget, so we gave the boys their first taste of Newcastle Brown Ale, a few hours later Mike was on the table doing a wonderful version of Tom Jones's 'What's New Pussycat?' . This was a great reunion.

May 1986 – Manchester – Leeds – Edinburgh – Birmingham – England
We traveled all over on the Thieves tour but we had one of the best adventures after the show in Nottingham.
We traveled by coach with the band to the hotel continuing on to the bar. We fancied a knees up as we'd finished all the alcohol backstage, after a couple of hours the band members started to drift to their rooms this only left Michael, Ian and me around. Michael asked the hotel night staff if there was any food available and they replied "no". So we decided to take a look in the kitchens ourselves. All the refrigerators were padlocked, but we came across a leather briefcase and opened it by force, it only had sweets in it so we ate them.
We all decided to lounge around the kitchen upon the stainless steel bench areas, and before we knew it were asleep. After one hour of total discomfort I awoke and roused Ian. We both looked down the corridor of the kitchen and noticed a black pair of Doc Marten boots and pink and black hooped socks sticking out of a utility cupboard. We were amazed when we fully opened the door and saw Hutch snuggled up comfy on the floor inside the cupboard. We quickly woke him and escorted him to his room. Those were the days!!

June 1986 – Listen Like Thieves
Royal Albert Hall – London the boys played a storming set and blew everyone away we were so excited to be pals with the worlds next greatest band. We often told Hutch this, but true to his self-effacing nature, he used to laugh it off shyly.

July 1986 – St James Park – Newcastle – England
The boys were to open the show for Queen, but fortunately for Ian and me their equipment was stuck in transit, say no more, a few beers backstage, and we headed into Newcastle had a great night.
Jenny Morris came along too and we introduced the boys to some very hot curries that evening. We told Mike that Vindaloo sauce was of very mild strength, when it is actually very hot, his face was a picture!!

August – September – October 1986
This was a very important time for the band as they were touring extensively and I used to keep in touch with Mike via telephone so often through using special code names at hotels etc. We had some great conversations around this time, also some very hush, hush stuff. I remember lifting Mike's spirits often.

November 1987 Toronto – Canada – Kick
We had been working in the USA and Canada and caught up with the guys on a few occasions. In fact we had a ball with Kick at its' soaring success, I remember Mike being back to himself around this time and quite enjoying this tour we had some great laughs. I can always still hear the slight lisp that Michael spoke with. It actually haunts me to this day in a very special way.

December 1987 – European Kick Tour
We went all over the UK on this stint, our home town gig was very special, we met the lads at the Gosforth Park Hotel in Newcastle, they had just flown in after shooting 'Never Tear Us Apart' in Czechoslovakia. They were exhausted, but we soon pulled Michael around to our way of thinking. The lounge was very relaxing, full steam ahead, I remember Michael's words to this day, "Lets get seriously xxxxx up". Which was an activity we all excelled in – in those days. A few hours later Mike was coasting through the bar, kissing everyone, and exchanging his kindness, fortunately, we made the gig.
We had another great time with the guys in Sheffield .We had made them a giant Christmas card for going home, it was the black silhouette of the band from the Kick sleeve. We surrounded it with Christmas décor; they were so delighted with it. I remember their tour manager Bruce Patron saying he was going to display it within the MMA offices.
We had been drinking quite a lot until about 10 minutes before show time, everyone was in very high spirits and we took what would have been some of our greatest ever photos with the guys, unfortunately I screwed up the film, rewinding the camera. My pal Ian was pissed off. Mike of course delivered his good-natured sarcasm. I quickly reminded him that he was also under the influence, the main offender being wine. In the last hour he had knocked our bottles off the table, and missed his stool once. This was a great day. Very special memories with the boys!

February 1988 European Kick Tour Continued
More quality times with the boys. I remember around this time Mike was missing Australia and at the time he was seeing Virginia Hey. We used to get up to all kinds of pranks to try and keep his spirits high.

June 1988 European Kick Tour Continued
Great times in England and Holland . I remember us standing outside of Chelsea Hotel , we came across a parked Harley Davidson, Mike had a long fur coat on and jeans. He paid much interest in the machine, so we tempted him to lie on the bike so we could take his photo. But we had to remind him that he had holes in both the soles of his cowboy boots.

November/December England 1990 X-Tour
We traveled with the boys often, after meeting in hotels in the afternoons, we had so many good times with Mike on this tour. Even though the guys were traveling in separate transport, Mike seemed fully aware of himself around this time. He often had a big ghetto blaster around the dressing rooms, with the Acid Scene blaring most of the time, a smoke machine and lights. He would say, 'I'm having a great time'. To us it was weird, but nevertheless we had a great time.

July 1991 – London Wembley Stadium-Summer XS
A truly wonderful day as we saw our pals play the greatest show of their career. We had a ball. At 11am we went into the show and our friend Tour Manager, Michael Long gave us a very fat package containing lots of access passes to all areas, but most important tickets to watch the show from the Royal Box.
We felt then that our friendship with the band had paid off in many ways. We not only loved their music, but we were also were very fond of each member who had shown us great hospitality for a long time.
After the show we went up to see the guys again and congratulated them on their finest performance. I think we left around 4am .

July 1993 European Tour
Once again we traveled a lot on this tour. But our favorite memory has to be in our hometown of Newcastle . We'd been propping up the bar in the Copthorne Hotel and then traveled by coach to the venue.
Mike and myself went to a bar around the corner to the venue, which was packed with INXS fans. Mike said hello to a few of my friends we met, we found a small table to which a comp bottle of champagne made its way to us, which we put pay to .
Around this time INXS hired a security guy called Jeff Pope and right from the start we drove him crazy. To this day I don't honestly think he understood our friendship with the band. Everything he requested us to do, we did the opposite, often enraging him. I cannot recall the times we apologized to him for 'Last night'.
Mike used to laugh it off and cover slightly for us. But after one night in Leeds when we started a food fight in the dressing room, we thought we'd blown it for good and we were very apprehensive of our next meeting. We didn't need to be though, Hutch blamed it on our jobs as 'offshore madness', he said.

October 1994 London
This is probably our greatest memory of all. We were at the Conrad Hotel in Chelsea in the afternoon and we had missed Mike as he'd gone to the hairdressers.
Due to us having car trouble at the time, we had to take our vehicle from work, which was an old jalopy of a transit van. When it was time to leave for the show, Mike had to go up to his room for something and all the guys had executive travel in limousines and wanted to go. Mike said he would just be 10 minutes and asked if he could come with us. Little did he know what he was letting himself in for. The band left in their two cars and when Mike walked out of the hotel he said, "Fucking hell, what's that thing?" We were crying with laughter as he hopped in.
We dare not stop even at the traffic lights in case the van clapped out on us as it had taken quite a journey. It was like a kangaroo going down the road, and we were in fits of laughter shouting, 'Executive travel' to Mike. When we made it to the venue, things got worse as the security would not let us in. What it must have looked like with one of the worlds top performers in this clapped out old knack of a van, the security were not having it at all.
We had to go get the road manager to the rescue and Michael made the show with only 20 minutes to spare. Mr Jeff Pope was not amused at all!! On the way home(without Michael) the van broke down after 10 minutes on the road. We got it going again though, but we would have gladly walked home just to see the look on Hutch's face when he walked out of the hotel and saw that van.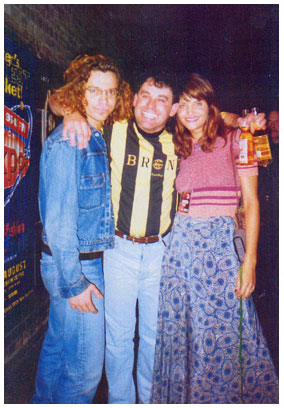 Michael, Gary and Helena

June 1997 Europe Elegantly Wasted
At my hometown, Newcastle , June 11th , it did not take me long to fathom out Mike was not himself at this time, the last day I ever saw him.
When he arrived at the Copthorne Hotel in the afternoon, his hair was darkened, his face was all puffed up, and he looked very confused in general. We spent some time together, had a few drinks and conversed about Tiger Lily, etc. Mike was saying everything was fine, but I could see this was far from the truth. It looked as though the days were gone when Mike would just glide into a room, he looked deeply unhappy, his medication was on show in the rooms we were in that day.
INXS put on a great show that night and after, we went backstage for a drink and a chat until around 1:30am . Michael and I, were the last to leave the arena. I carried his bags and we conversed lightheartedly. There were a few girls waiting for autographs and I remember having to nudge Mike in their direction – something I had never had to do before. Mike was always signing for fans.
On our arrival at the tour coach Mike took his bag and put his arms tightly around me, and thanked Ian and me for all the times we had been there for the band in the earlier days. I was very proud of this, and still am, it was a farewell I shall treasure forever.
When I looked back to that day it tortured me for a while to think what was going through Mike's mind. I honestly think Mike found it so hard to change the path he had trodden down for twenty years, his whole demeanor had changed.

November 22, 1997
For years due to my job, I have risen early in the mornings. At around 8am on that Saturday, I had to go to the local hardware store for some materials to complete a job I was undertaking around the home. At the time we only had the one car, and from upstairs I remember my wife shouting "Don't be long, I've got to go to work".
On my return 20 minutes later, my wife Anne (who had met Mike several times) was standing at the door drained of colour. I knew something was terribly wrong; my mother? My father?
Anne said " Gary , I've got some terrible news for you. It's Michael."
I said, "Michael fucking who?"
"Hutch has been found dead Gary ."
I cannot even recall what went through my head, as I ran to the TV – radio and it was confirmed. I broke down, our friend had gone. I rang Michael's London manager, Paul Craig who confirmed the truth. It was the most devastating news to anyone whom had been acquainted with the real Michael Hutchence.
I was never again to hear the words, "How ya bin matey?"
Even though things were a real blur after many drinking sessions, Ian and I managed to get our condolences through to Australia.


Mike is still missed very, very much.


TO BE CONTINUED........

Gary Lilley – England
July, 2004


All photos and words courtesy of Gary Lilley