"The Gift He Gave Is Going To Last Forever"
by Gary Lilley (Part 2)

March, 1998
This is when Mike's father Kelland had called me to say he had information that I had been a good friend to Mike, also he had heard that I had some nice photographs of Mike and would it be possible to obtain some. I said of course, and after he had received them, we built up kind of a telephone relationship. Kelland had told me he was very concerned about Tiger's well being in England.


May, 1998 –26 Courtnell St. , London
Kelland asked me if I could pay Paula an unannounced visit. When she answered the door she was rather surprised to see me standing at the door, she offered me in and as I went upstairs and entered the bedroom it was a very special moment for me to see little Tiger sitting on the bed, like a mini Michael. I gave her a great big hug and she sat with me for ages. I also gave Paula a lovely, gift wrapped, photo, of Mike to give to Tiger whenever she thought the time was right.

I then made Tiger some toast, the rest of the time Paula confided in me regarding the last few days Mike spent in England . She also read me the letter Mike had posted from the Mondrian Hotel in Los Angeles.

I felt quite embarrassed but it certainly looked that Mike was saying some kind of goodbye.

I said to Paula that I'd never before asked anything of Mike and was it possible to have a keepsake. I was allowed to choose some clothes from the wardrobe. Paula also asked me to write something for Tiger about her Dad, which I said, I would. Paula knew that I'd been with Mike the first night she had met him in Newcastle , she knew I'd known Mike a long time and had seen a lot more of him than she ever had. She saw me to the door and kissed my cheek, I reported to Kelland that things looked okay for now!

1998 Paula's TV Documentary
I was so ashamed of this TV show, a (expletive) disgrace. Paula had asked me to say a few words, but I knew which path she was taking and refused. Kelland thanked me later.

Some of the matters discussed were a (expletive) disgrace to Mike's memory and a complete fabrication. Shortly after this television show I was in her area through working arrangements, once again I knocked on her door and asked if I could have a word with her.

I told her, "Some of the things you discussed on that TV programme were right out of order." She told me to leave her home. At the time she was dating Finlay Quaye. He butted in and voiced his opinion and I said, "What the xxxx has it got to do with you." I told the pair of them to go and xxxx themselves. Paula knew I was xxxxed right off. If it had not been for the sake of Tiger I would have asked for all of my personal items I had forwarded to her to be returned.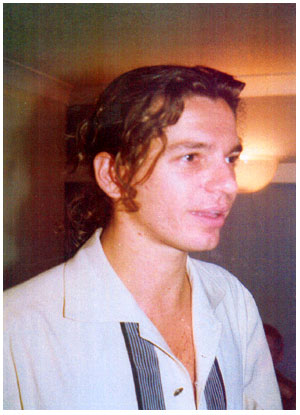 Michael in the late 1980's
2001-2004
I found some peace in visiting Sydney twice in this period, my family were made most welcome by kelland and Susie. They made our holidays very special.
I looked on it as a kind of healing process.

I caught up with all members of INXS on numerous occasions and we had our moments. Most people involved with INXS knew I had my tribute band, 'The Original Sins' making lots of money for different charities, which were very successful evenings.

Mike is still missed very, very much.

Gary Lilley – England
July, 2004


All photos and words courtesy of Gary Lilley